CUPE mourns Local 1004 member killed on the job
VANCOUVER – CUPE 1004 and the entire CUPE family are mourning the death of Jody Taylor, a 43 year-old arborist for the Vancouver Park Board who died yesterday while on the job in Connaught Park doing the work he loved.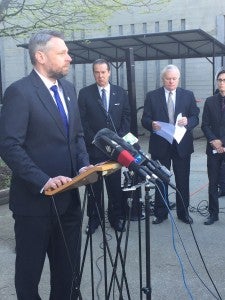 CUPE 1004 President Andrew Ledger joined Vancouver Mayor Gregor Robertson, City Manager Sadhu Johnston, Park Board Manager Malcolm Bromley, and Park Board Commissioner John Coupar at a press briefing this morning at City Hall to express condolences to Brother Taylor's family, friends and co-workers affected by this terrible event.
"On April 28, Canadians mourn workers killed on the job. It is my unfortunate duty to add Jody Taylor's name to this year's list," said Ledger.
"CUPE 1004 and the entire CUPE family express our deepest condolences to Jody's family, friends and co-workers—particularly the crew members who were with him when this tragedy unfolded."
Ledger noted that Jody, who leaves behind a 10 year-old daughter, was a much- loved public employee and a dedicated arborist who for 16 years took daily pride in keeping Vancouver's parks, playgrounds and boulevards "not only beautiful but safe for the citizens of our city."
Ledger said that CUPE 1004 is actively involved in the investigation of this workplace fatality.
"When workers get up in the morning and go to work, we expect to come home alive at the end of the day," he concluded. "Tragically, this did not happen for our brother Jody. CUPE 1004 commits to redoubling our efforts to ensure that workplace safety is our highest priority."
Coworkers raise support for Jody
The Story
It is with heavy hearts we announce the passing of our dear friend and colleague Jody Taylor. He tragically lost his life due to a work related accident on March 31st 2016. At work he was very well liked and respected by all around him so we are all completely devastated by this tragic event.
Jody's number one priority in life was his 10 year old daughter Tristen. Their father daughter relationship was very special. You only need to look at Jody's Facebook collection of photos of the two of them together to see the mutual adoration and love they shared. As Jody's friends we are devastated for Tristen and the family. Thankfully Tristen will be surrounded by her loving family during this difficult time.
Funds will be directed toward Tristen's education, ensuring that she will be able to continue her pathway toward a bright future, one that her father would undoubtedly want her to have.
Any donations will be gratefully accepted…
Sincerely,
Harry Kettmann, Jody's friend and colleague at the Vancouver Park Board on behalf of the Taylor family.
Please donate: