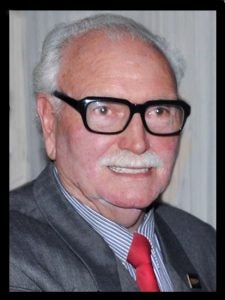 It is with great sadness that we report the passing of former CUPE 1004 President Brother Dave Long who passed away on March 26th, 2021 at the age of 92.
The CUPE 1004 Executive and all members express our deepest sympathies to Dave's family and friends. He had a profound positive impact on CUPE 1004, all levels of the labour movement, and many campaigns for peace and social justice. He will be dearly missed by all who knew him.
Please read below the memories of CUPE 1004 Business Agent Karen Kindrid who started her union activism when Dave served as local president.
In Memory of Dave Long
Dave worked in the Waterworks Branch of the Engineering Department at the City of Vancouver. 
He was President of CUPE Local 1004 for many years from 1980 to 1994 and gave freely of his time and support to all.  He was very active in the Trade Union movement at the local union level and far beyond.  He supported many union initiatives including having the National Day of Mourning for Worker's injured and killed on the job implemented, which is now officially recognized on April 28th each year. He also spearheaded the plaque that was erected on the north side of Vancouver City Hall in recognition of the Day of Mourning, and which is still displayed there today.
He was always front and center during the Peace Marches in the '80s and on picket lines wherever support was needed.  He was an activist and delegate to CUPE Metro, Vancouver and District Labour Council and to CUPE BC, CUPE National, BC Federation of Labour, and Canadian Labour Congress Conventions.
Dave had a huge heart and commitment to social justice like no one else I have ever met.  He was always willing to help new activists and share his knowledge with all who were willing to listen, and would tell you the things you didn't want to hear, too.
The world and our union is a better place because of his dedication.  I will always be grateful that I had the pleasure of meeting him. He was my mentor, my friend, my union brother, and a great human being.
     -Karen Kindrid, CUPE 1004 Business Agent
As CUPE 1004 members take time to remember his contribution, we recommit to keep building on Dave's legacy and continue fighting for the rights of all working people here in Vancouver, across Canada, and around the world.
In solidarity,
Andrew Ledger
President, CUPE 1004